Day 32/33
August 28, 2015 08:52 UTC Team Alster Hamburgers [2015]Subscribe to this teams's activities
Day 32
Coach and mentor Klaus and Thorsten had another look at why Travis kept insisting that there were some errors in our tests that we didn't see locally, and found some issues that were causing the failing tests. It seems that the cause is similar to the problems we ran into the day before, so we need a bigger change of plan to make things work. So back to the drawing board... and actual pen and paper to draft new ideas.
We put together a new sign up flow that validates things correctly and will get rid of the problems we've encountered.
We were quite blocked on how to start building our new solution, so had a look at a few tutorials to re-inspire ourselves (and get a little break to return to the code with a fresh mind).
In the afternoon, we had a session with Anastasia to try and start implementing our new flow. It still seems a bit tricky to get it all to work together smoothly with the submodule that handles the sign-up form, but we made first steps towards a solution.
And the night marked the very first meeting of the Hamburg Gem Sessions! After seeing the many great study groups from Berlin at Eurucamp, several people from Hamburg decided we should start something similar in Hamburg (that will also continue post-RGSoC), and had a first meeting with two coaches and four learners to get things started (and decide on a name).
Day 33
The RGSoC day off! We decided to put our afternoon to good use and went to volunteer at Hamburger Messehallen - a big convention center that is currently both the home for 1,200 refugees who recently arrived in Germany, and houses the gigantic donation center where volunteers collect, sort and box up everything that friendly Hamburg residents bring over. We talked to some people who had been there a few days ago to help already, and they say it is absolutely amazing how many things have been donated just in the last few days. Our photo gives an idea of the proportions of the donations - behind us, you only see women's blouses, shirts and shorts! So we helped to sort and box up blouses for a few hours.
It is a great initiative (and other cities surely have them as well!) - if you have a few hours to spare, we can only recommend finding out ways to contribute. :)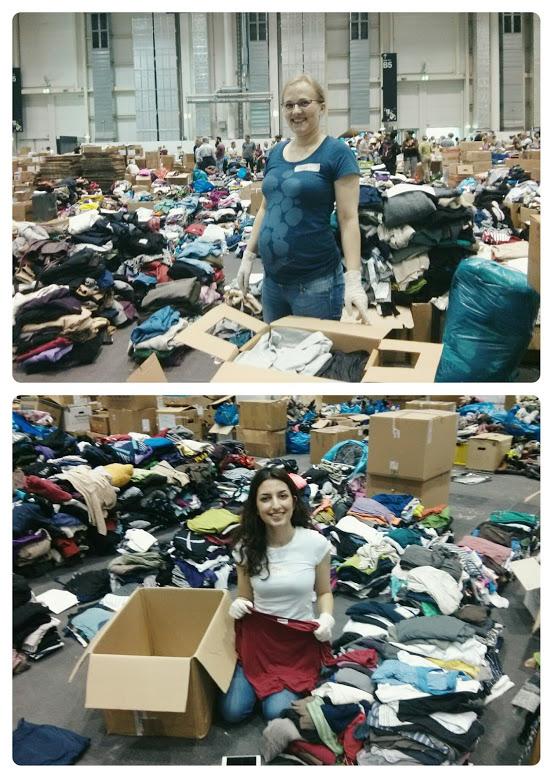 Comments
You must be logged in to add a comment.